President Trump on Thursday directed the US trade representative to level tariffs on about $50 billion worth of Chinese imports. Why Trump's tariffs on China are a big deal: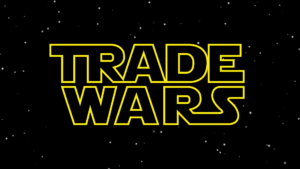 In the next 15 days, US Trade Representative Robert Lighthizer will publish a list of products that his team intends to hit with tariffs. It's not clear how high the individual tariffs will be.
The United States also plans to impose new investment restrictions and take action against China at the World Trade Organization.
The trade conflict between China and the U.S. escalated, with Beijing announcing its first retaliation against metals levies hours after President Donald Trump outlined fresh tariffs on $50 billion of Chinese imports and pledged there's more on the way. China Hits Back on Trump Tariffs as Europe Off Hook for Now:
On Friday, China unveiled tariffs on $3 billion of U.S. imports in response to steel and aluminum duties ordered by Trump earlier this month. The White House then declared a temporary exemption for the European Union and other nations on those levies, making the focus on China clear. Though Beijing's actions so far are seen by analysts as measured, there may be more to come.
"Trump's Trade War" has caused a decline in world markets:
Equity indexes from Tokyo to Frankfurt tumbled with European equities falling to the lowest in more than a year. U.S. stock futures dropped, signaling a further retreat for the S&P 500 Index after it fell 2.5 percent, on risks a further escalation in trade tensions will undermine an unusual phase of synchronized global economic growth.