The egomaniacal Twitter troll Donald Trump spent more than a year seeking to undermine American's confidence in their electoral system, first claiming without evidence that the GOP primaries were rigged, then spending months claiming the general election was rigged. Trump falsely claimed without evidence that millions of illegal voters voted to explain losing the popular vote by well over 2 million votes.
Trump even suggested that his supporters might resort to "Second Amendment remedies" if the election did not go his way, Donald Trump Suggests 'Second Amendment People' Could Act Against Hillary Clinton, eschewing the American tradition of deciding elections by the ballot box, not bullets.
This is the man who is now in a position to impose GOP restrictions on voting in pursuit of the GOP's mythical "voter fraud" fraud — in reality, voter suppression of Democratic-leaning voter constituencies. After Bitter Campaign, Election Positions Trump to Shape Rules on How You Vote: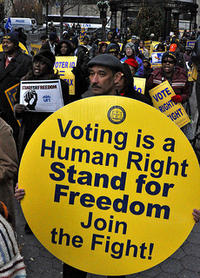 After an extraordinarily contentious election, crucial elements of the rules that determine how Americans vote will be under assault from conservatives and facing legal challenges heading toward the Supreme Court as Donald J. Trump prepares to become president.
Mr. Trump's claims of a "rigged" election — made before he won — and his false declaration after his victory that "millions of people" had voted illegally for Hillary Clinton made headlines.
They also amplified longstanding Republican claims that rampant voter fraud justified a welter of state laws making it more difficult to register and vote. Democrats say the laws are not about combating fraud but about suppressing the vote of minorities and other Democratic-leaning constituencies.
Mr. Trump will have enormous power to shape future policy on voting.